SUPER Cute Alien
A downloadable game in development for Windows
1-4 players platformer about friendship, love and what it means to be human. Adventure, action and puzzles, contrasting cute and gore effects, also including RPG elements.

Currently featuring multiple game modes, 1-4 players:
PvE: Story mode.
PvE: Story mode Coop.
PvP: Last One Standing

PvE: Survival
Coming next updates:
Check out latest Dev Log:
Modding
Please check this guide to see how levels or custom masks can be added.
Online via
You can now play SUPER Cute Alien online with your friends using Parsec!
Please check this guide to see how you can do it!

Community

Join our Discord server for custom content and chit-chat with the developers.
You can also provide feedback using the comment section below.
News & Awards
🏆 Expo booth on Tucuman Hace Video Juegos 2019!
🏆 We got 2º place on GDWC's Fan Favorite (week 5) 🏆
🏆 We got 3º place on #Potenciate VideoJuegos contest! 🏆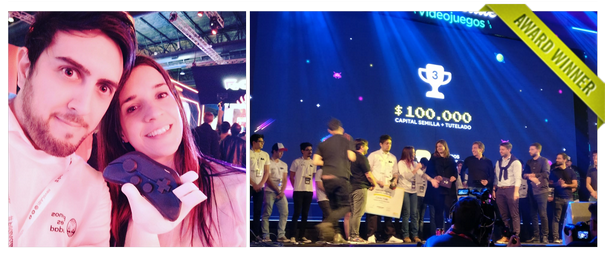 Thanks everyone who made this possible!

Remember this is a work in progress. More content is being added periodically, so check back again soon!
| | |
| --- | --- |
| Updated | 1 day ago |
| Status | In development |
| Platforms | Windows |
| Rating | |
| Author | SETENTIA Studios |
| Genre | Adventure, Fighting |
| Made with | Haxe |
| Tags | Action-Adventure, Cute, Gore, Local Co-Op, Local multiplayer, Puzzle-Platformer, Singleplayer, Survival Horror, Twin Stick Shooter |
| Average session | About an hour |
| Languages | English |
| Inputs | Keyboard, Mouse, Xbox controller |
| Accessibility | Subtitles, Interactive tutorial |
| Multiplayer | Local multiplayer |
| Player count | 1 - 4 |
| Links | Twitter, Community, Homepage |
Purchase
In order to download this game in development you must purchase it at or above the minimum price of $9.99 USD. You will get access to the following files:
super-cute-alien-win.zip
707 MB
Comments
Log in with itch.io to leave a comment.
As Usual Gameplay Footage from Z9ZGAMES Channel!!!
With All Thanks to the Creator of the Game!!!
i play with valve's proton (wine fork) on ubuntu linux, it spit out errors related to sound assets

...
Error after opening sound data
Error after opening sound data
ESound.hx:119: Error: Could not load "assets/sounds/speech/female2/refusal_4.ogg"
Sound.hx:119: Error: Could not load "assets/sounds/speech/female1/confirmation_4.ogg"
Sound.hx:119: Error: Could not load "assets/sounds/speech/male1/completion_5.wav"
Sound.hx:119: Error: Could not load "assets/sounds/player/step_water1.ogg"
...
Wow, that's actually super useful since we are having issues with sound at the moment and not sure why and don't understand why sometimes it happens and sometimes dont. Do you happen to have the full log just in case? How does it run on Linux (performance wise)? Thanks!

Here is the full log of version 46 and version 47. Version 47 doesn't even start, it crash. I test it with proton 3.16-8 beta.
Thanks a lot mate! We created a new build just for you (version 49). It shouldn't crash at startup and we removed the caching of sounds because looks like its causing issues. Also we enabled -verbose mode to, hopefully, have more information in case it crashes again. Please let us know how it worked out for you. Thanks again!
Sorry for late reply, unfortunately version 49 still crash on both proton and wine tkg 4.3. Here is the terminal message with WINEDEBUG=+relay.
Thanks a lot for taking your time to send us this. From the log can't clearly see what would be the issue. Anyhow, we created another build for you (build 50). Please, give it a try and let us know if does run. In case it crashes, if you can share a simple log like #46, #47 would mean a lot. Thank you!

glitched into the ground, first level or tutorial underneath the wall jump course
Oh, that's very sad to hear. Glitches of this kind are very very rare and when they do happen you can usually walk out. However, if you can somewhat send us a screenshot of the exact location we could investigate further. Thanks for playing!
I'm very sorry i closed the game already but i as i said i was just a little into the tutorial where you had to do wall jumps between two close walls and was stuck beneath the right one. I was stuck like half a meter or so meaning that i could fire out of my doom if in the right angle. I also couldn't move a bit which madee it impossible for me to escape. I believe it happened when i jumped off the second wall
(edited)
I will attach a photo of the location of the event about today evening
I am incapable of figuring out how you are supposed to move in this game via keyboard, I tried all commonly used keys for movement and have had no luck. However some keys do work, they just don't allow me to move.
Also I find the flying robot to be getting on my nerves.
Edit: Thanks for the help!

Make sure the game has focus. Also try fullscreen on options. If you have a gamepad connected game will switch to joystick controls instead. WASD and arrow keys are default on keyboard.

Other players experienced the same. Seems like the game detects input in a wrong way. Go to Options -> Disable Joystick (even if you don't have one). A proper fix is in the way!

cannot turn off music and lower volume of sound effects?
Oh, thanks for reminds us of that. The new UI still needs a few tweaks. Fixing it on next update!