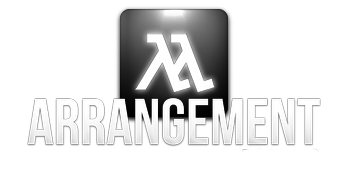 ARRANGEMENT
Follow Fred Thompson on an emotional, action packed search for redemption, through many missions based upon real scenarios.

Total Half-life conversion.
Great singleplayer campaign, with complex story involving lots of characters and locations.
Realistic and fun gameplay.
Drastically improved AI.
Unlockable content.
Player profiles.
Dynamic sound tracks.
Bump and specular mapping, realistic flashlight and lighting.
Post-processing effects.
Tons of weapons & items with different dynamic customization and addons.
Non lethal weapons and NPC surrendering system.
Rainbows: An operative system which allows the player to interact with computers in a way never presented on game's history. Take a look here.
Easy to customize game options.
Particle systems.
Stealth mode (you can hide in shadows)
Character growth: you can earn experience points which improves your character's skills.
Professional level designers, programmers, composers and voice actors cooperates in the project.
Totally new HUD which disappears dynamically and features overlays (blood splatters, raindrops and more)
Realistic and immersive camera movement.
Weather effects.
LOOT system with item drops, including rare weapon skins you can customize in-game, on the fly.

Claudio 'SysOp' Ficara, RED_NED, Alex "HAWK" Bakanov, Joël "Shepard" Troch, Killer_Zeta, FoxTrop, with help from a dozen of collaborators over the forums :)
We wish to thank Half-Life Creations for inconditional support and ARRANGEMENT's community for always being there to help!


Install instructions
⚠️ A Half-Life 1 copy on Steam is required ⚠️
Using your favorite archive software, extract the "AM" folder to "$SteamLibrary\steamapps\common\Half-Life" ($SteamLibrary represent the path of your Steam library where Half-Life is installed, unless you changed your Steam settings, it should be by default : "C:\Program Files (x86)\Steam")

Restart Steam.
HOW TO RUN AM

AM needs Frame Buffer Objects disabled (otherwise expect graphical glitches).

You can launch the mod via "$SteamLibrary\steamapps\common\Half-Life\AM\Launch.bat"

Or in your Steam game library, right-click on "ARRANGEMENT" -> "Properties" -> "Set launch parameters" and just type -nofbo
HOW TO PLAY

Just select 'Go to HUB' in game menu.